3% OFF
🔍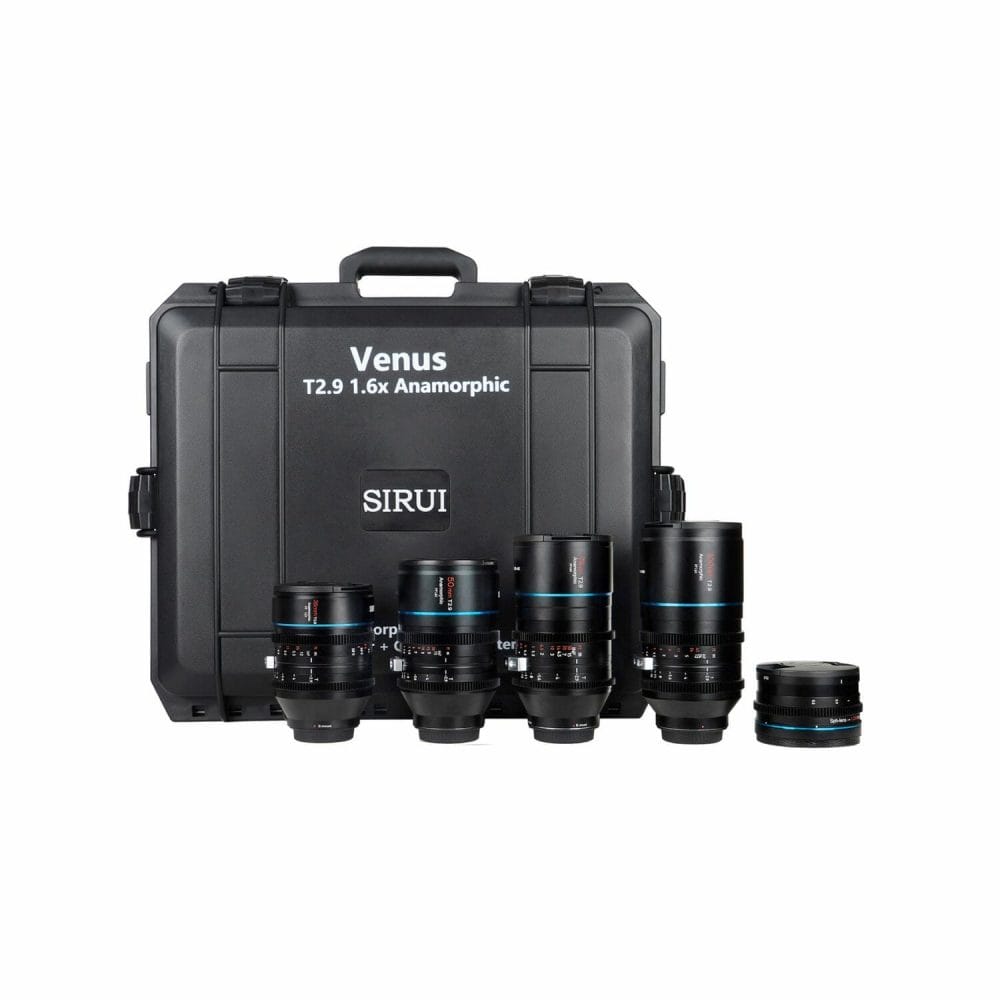 Sirui Venus T2.9 Anamorphic 4 Lens Kit with 1.25x Adapter
Focal Length : 35mm / 50mm / 75mm / 100mm
Maximum Aperture : T/2.9
Lens Mount : Canon RF / Sony E / Leica L / Nikon Z
Focus Type : Manual Focus
Format Compatibility : Full Frame
Filter Size : 82mm
Warranty : Sirui India 1 Year Warranty
Sirui Venus T2.9 Anamorphic 4 Lens Kit with 1.25x Adapter
In The Box
Sirui Venus T2.9 1.6x Anamorphic  4 Lens Kit with 1.25x Adapter
Features
Sirui T2.9 1.6x Anamorphic lens for Canon RF/ Sony E / Leica L Mount is a sharp and fast anamorphic lens designed to bring a cinematic look to your videos. With its 1.6x Ratio, the lens takes full advantage of the Full Frame sensor to produce a 2.8:1 wide screen aspect ratio that is synonymous with theatre movie experiences.
The lens uses an optically distorting anamorphic front element to squeeze the horizontal axis of the shot by 1.6 times which allows for more information to be fit onto the sensor. This is then stretched back out in post-production or in-camera (see manufacturers specs for compatibility) to create the wider field of view and ratio compared to a conventional aspherical lens.
The lens reproduces flares beautifully whilst the coatings on the lens keep them from obscuring the entire frame. The fast aperture of T2.9 to creates a very shallow depth of field increasing the oval-shaped bokeh effect that is found in anamorphic lenses. this soft out of focus area is one of the many benefits that a true anamorphic lens brings over its filter counterparts or digital crop bars that are used to imitate the anamorphic 'look'.
In built focus gears work perfectly with follow focus setups to ensure smooth and accurate focusing.
1.25x Anamorphic Adapter
The SIRUI 1.25x anamorphic adapter is designed to turn any spherical lens into an anamorphic or increase the squeeze ratio of anamorphic lenses. This is a super budget-friendly anamorphic solution that will bring you tons of fun!
The 1.25x is one of the most classic squeeze factors used by popular anamorphic lenses like Panavision. In addition to creating a 25% increase in the horizontal field of view, the 1.25x squeeze has two other advantages.
2x Constant Squeeze
Screw the SIRUI 1.25x adapter onto the 1.6x anamorphic to achieve a 2x squeeze. With a higher squeeze comes more noticeable anamorphic characteristics, for example, the thinner bokeh and shallower depth of field.
The 2x squeeze allows more information to be included into the frame, giving vou more flexibility to reframe in post.
Flexible Reframing
Compared to traditional 2x anamorphic lenses, this combination is reasonably compact and affordable, offering the best value for your money.
Approx. 16:9 Common Aspect Ratio
Most professional digital cameras, such as ARRI, use 4:3 sensors. When a1.25x anamorphic adapter is used on these cameras, the image can be directly desqueezed to an approx. 16:9 aspect ratio, which is a universal format for modern commercials, TVCS, etc.
Using the 1.25x adapter on spherical lenses and shooting 16:9 will result in a 20:9 aspect ratio, which allows you to play videos in full screen on smartphones.
Wide Compatibility
The 1.25x adapter has an 82mm rear thread. Three step-down rings (67mm, 72mm, 77mm) and a step-up ring (92mm) are available to match a wide array of popular lenses on the market.
Compact & Portable
With a length of only 46.5mm and a weight of 650g, the adapter is relatively small and lightweight.
Front Single Focus
Set the base lens at infinity and use only the adapter to focus.
Constant Squeeze Ratio
The adapter maintains a constant 1.25x squeeze ratio at all focusing points, eliminating the "anamorphic mumps" effect on your talent.
| | |
| --- | --- |
| Brand | Sirui |
| Mounts: Canon RF | Canon RF, Leica L, Nikon Z, Sony E |
Specifications
35mm T2.9
Focal Length : 35mm
Lens Mount : Canon RF / L Mount / Sony E / Nikon Z
Format : Full Frame
Squeeze Factor : 1.6x
Equivalent Focal Length Horizontally : 22mm
Max Aperture : T/2.9
Lens Structure : 18 Elements in 13 Groups
Aperture Blades : 10
Minimum Focus Distance : 0.09 m
Rotation Angle of the Focus Ring : 120°
Filter Thread : 82 mm
Length (mm/inches) : Approximately 117.7/4.63
Weight (g/lbs) : Approximately 929/2.05
50mm T2.9
Focal Length : 50mm
Lens Mount : Canon RF / L Mount / Sony E / Nikon Z
Format : Full Frame
Squeeze Factor : 1.6x
Equivalent Focal Length Horizontally : 31mm
Max Aperture : T/2.9
Lens Structure : 16 Elements in 13 Groups
Aperture Blades : 10
Minimum Focus Distance : 0.75 m
Rotation Angle of the Focus Ring : 95.5°
Filter Thread : 82 mm
Length (mm/inches) : Approximately 140/5.51
Weight (g/lbs) : Approximately 1030.6/2.27
75mm T2.9
Focal Length : 75mm
Lens Mount : Canon RF / L Mount / Sony E / Nikon Z
Format : Full Frame
Squeeze Factor : 1.6x
Equivalent Focal Length Horizontally : 47mm
Max Aperture : T/2.9
Lens Structure : 15 Elements in 13 Groups
Aperture Blades : 10
Minimum Focus Distance : 0.85 m
Rotation Angle of the Focus Ring : 95.5°
Filter Thread : 82 mm
Length (mm/inches) : Approximately 153.5/6.02
Weight (g/lbs) : Approximately 1365/3.01
100mm T2.9
Focal Length : 100mm
Lens Mount : Canon RF / L Mount / Sony E / Nikon Z
Format : Full Frame
Squeeze Factor : 1.6x
Equivalent Focal Length Horizontally : 63mm
Max Aperture : T/2.9
Lens Structure : 15 Elements in 13 Groups
Aperture Blades : 13
Minimum Focus Distance : 0.09 m
Rotation Angle of the Focus Ring : 100°
Filter Thread : 82 mm
Length (mm/inches) : Approximately 164/6.46
Weight (g/lbs) : Approximately 1447/3.26
1.25x Anamorphic Adapter
Focus Method : Front Single Focus
Constant Squeeze : 1.25x
Length : 46.5-58.5mm
Weight : 650g
Max. Aperture : T2.9
Min. Focus Distance : 0.8m
Front Diameter : 85mm
Max. Diameter : 89.6mm
Rear Thread : 82×0.75mm