30% OFF
🔍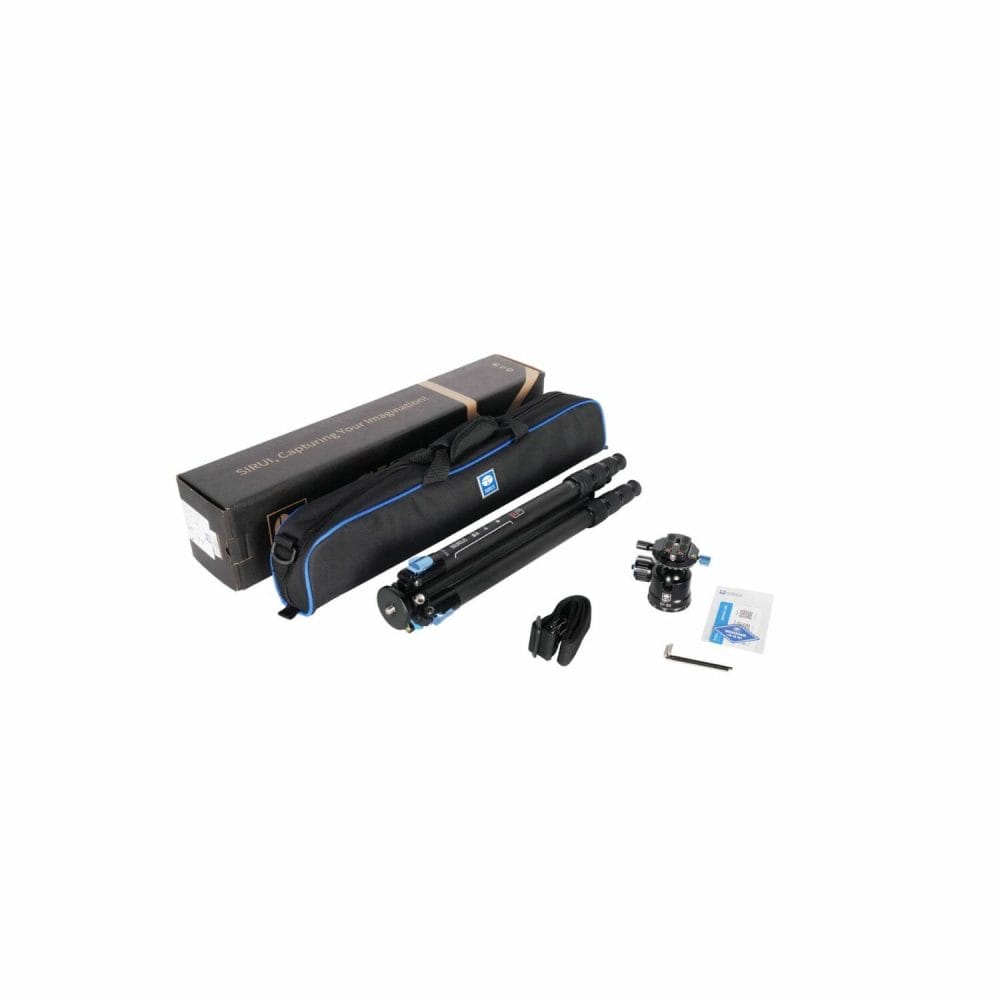 Sirui ST-224 + ST-20 Carbon Fiber Tripod

You save ₹14,030!
Load Capacity : 15 kg / 33 lb
Max. Height with Column : 1750 mm / 68.9 inch
Max. Height without Column : 1489 mm / 58.66 inch
Waterproof : Yes
Tripod Weight : 1.4 kg / 2.6 lb
Head Weight : 0.55 kg / 1.21 lb
Material : Carbon Fiber
Center Column : Yes
Section : 4
Warranty : Sirui India 6 Years Limited Warranty
Sirui ST-224 + ST-20 Carbon Fiber Tripod
In The Box
Sirui ST-224 + ST-20 Carbon Fiber Tripod
Features
Taller and More Stable
Compared to the ST-224 tripod in the same lineup, ST-224 tripod is taller, stronger, and more stable to hold larger and heavier setups.
Triangular Center Column
Constructed with carbon fiber, the center column and the legs are lightweight, sturdy, and corrosion-resistant. The triangular center column gives the tripod a fairly compact size when collapsed.
Quick Release System
Press the quick-release pin to quickly remove the center column for a lighter kit and a lower shooting angle.
Reverse the center column and insert it directly into the tripod for quick setup. Compared to a column locking knob, a quick-release pin is more handy and simple to use.
Mount the ST-Z short center column to the tripod for low-angle shots.
Quick-Release Threaded Stud
Press the quick-release button to quickly switch between the 1/4″ and 3/8″ threaded stud.
Waterproof
The twist leg locks are tightly sealed to prevent water, dirt, and dust from entering the tube.
Accessory Ports
A wide range of accessories can be attached to the tripod via the 1/4″ and 3/8″ accessory ports.
Rubber Feet and Spikes
Rubber feet and metal spikes are included to handle many different surfaces. Retract the rubber feet to reveal the spikes.
ST-220 Low-Profile Ball Head Dual Panning Systems
360° panorama function can be achieved via the panning base and the panning clamp. The vertical notch enables the ball head to shoot vertically.
Anti-Twist Pins
The universal Arca-Swiss plate comes with anti-twist pins. When pulled up, the anti-twist pins lock the gear securely in place, reducing the possibility of accidentally falling.
The ball head is made of solid aluminum alloy to be sturdy and durable. The ultra-low profile design keeps the camera closer to the tripod apex for more stability.
Integrated Knob
A friction control knob is built onto the ball locking knob. Adjust the friction of the ball according to the weight of the mounted gear. A minor twist is enough even for a heavy setup.
Specifications
Tripod : ST-224
Material : Carbon Fiber
Sections : 4
Max. Tube Dia. : 29.4 mm / 1.16 inch
Min. Tube Dia. : 18.6 mm / 0.73 inch
Min. Hgt. : 430 mm / 16.9 inch
Max. Hgt. : 1750 mm / 68.9 inch
Retracted H. : 520 mm / 20.5 inch
Weight : 1.4 kg / 2.6 lb
Load : 15 kg / 33.1 lb
Head : ST-20

Diameter  : 40 mm / 1.57 inch
Height  : 90 mm / 3.54 inch
Weight  : 0.55 kg / 1.21 lb
Max. Load  : 35 kg / 77.16 lb