SOLD OUT
🔍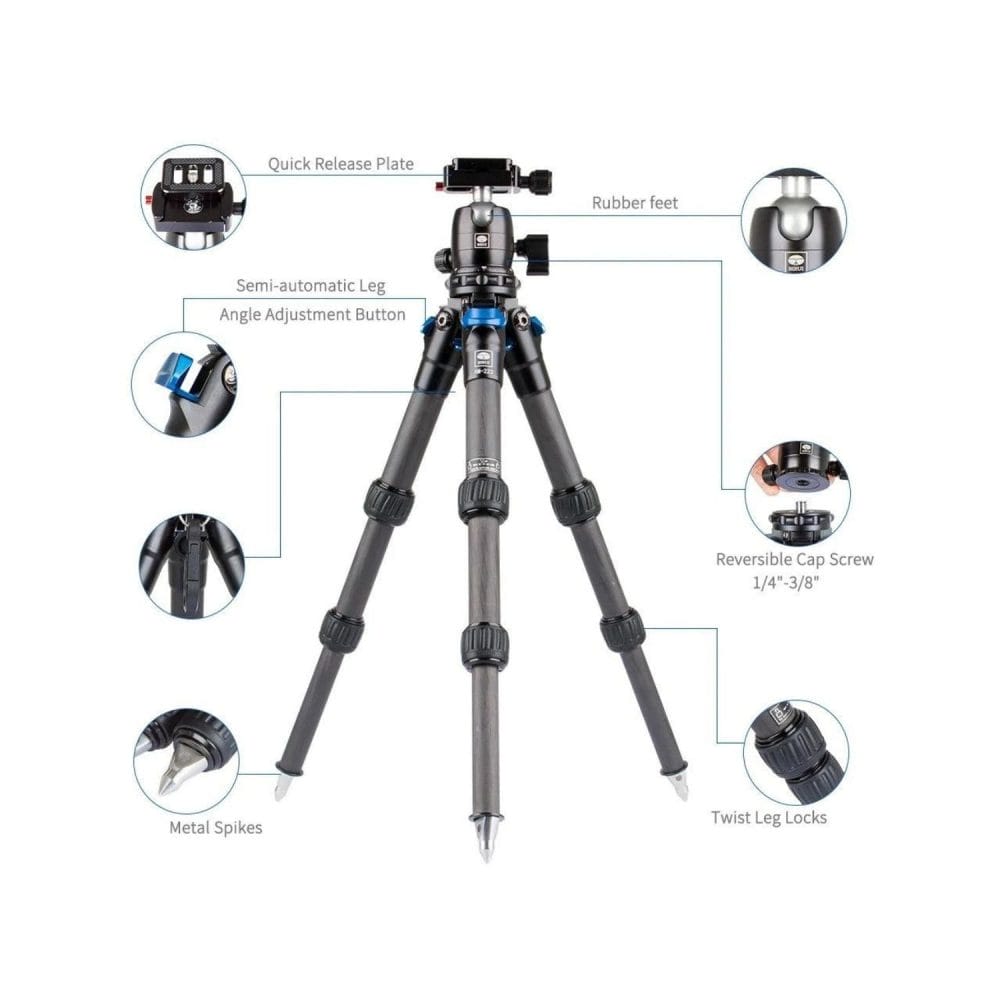 Sirui AM-223 + B-00K Carbon Fiber Tripod

You save ₹4,470!
Load Capacity : 15 kg / 33 lb
Maximum Height : 350 mm / 13.8 inch
Waterproof : No
Tripod Weight : 0.53 kg / 1.17 lb
Head Weight : 0.2 kg / 0.44 lb
Material : Carbon Fiber
Center Column : No
Section : 3
Warranty : Sirui India 6 Years Limited Warranty
Sirui AM-223 + B-00K Carbon Fiber Tripod
In The Box
Sirui AM-223 + B-00K Carbon Fiber Tripod
Sirui B-00K Ball Head Aluminium
Quick Release Plate Aluminium
Stainless Steel Spikes x 3
Snap Hook
Transport Bag
Features
Constructed with Carbon Fiber, the compact and robust SIRUI AM-223 tripod is strong yet light enough for hiking and traveling and will support up to a 15kg/ 33lbs load
B-00k Ball Head
Solidly constructed with anodized aluminum alloy
1/4″ Accessory Port
Connect accessories without clips or clamps
Easy to Maintain
An Allen key is provided for quick on-site adjustment.
Switch the mounting screw from 3/8″ to 1/4″
Easily convert the mounting screw from 3/8″ to 1/4″. Simple remove and switch with the provided Allen Alloy
Semi-automatic Leg Angle Adjustment Button
Adjust the legs to your desired angle by pulling out the semi-automatic button
Low Angle Design Features
Remove the center column for those low angle, marco shoots
Three Angle Adjustment
Setup for multi-angle shooting and different shooting scenarios
Anti-slip and Wear-resistant Rubber Leg Locks
Manufactured to last
Carbon Fiber Leg Tube
Light and Resistant to corrosion and vibrant
Interchangeable Rubber Feet and Metal Spikes
Stand firm on different terrains for indoor or outdoor shoots
Compact Legs
Fold the Legs for a compact fit to store and carry
Specification
Tripod : AM-223
Model : AM-223
Material :

 

Carbon Fiber
Sections : 3
Max. Tube Dia. : 22 mm / 0.87 inch
Min. Tube Dia. : 16 mm / 0.63 inch
Min. Hgt. : 58 mm / 2.3 inch
Max. Hgt. : 350 mm / 13.8 inch
Retracted H. : 214 mm / 8.5 inch
Weight : 0.53 kg / 1.17 lb
Load : 15 kg / 33.1 lb
Head : B-00K
Weight : 0.2 kg / 0.44 lb
Max. Load Capacity : 10 kg / 22.05 lb
Height : 70 mm / 2.8 inch
Ball Diameter : 29 mm / 1.1 inch
Base Diameter : 41 mm / 1.61 inch
Plate : TY-C10
perfect
i have researched mini tripods for a large heavy camera (4Kg) for a while. i already own a sirui tripod. i have chosen this model because it is lightweight but sturdy. i have made the right choice with this mini tripod. works like charm. mechanics is perfect. thank you Sirui 👍👍👍
Great compact tripod
Very useful tripod for shore birds photography. Build quality is excellent. Compact and easy to carry in the backpack. Highly recommend this tripod for bird and wildlife photographers.